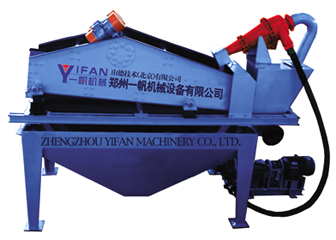 (1) Brief Introduction
 The SS series sand collecting system is designed on the base of absorbing the foreign advanced technology, together with our real condition and come up to the advanced world standard. They are utilized widely in the sandstone aggregate processing system of water and electricity station, the processing system of original glass material, the production line of manufactured sand, recovery of the coarse slime of the coal cleaning factory, and the protection environment project(the mud cleaning etc.) and so on, they can solve the fine sand recovery questions.
(2) Working Principle
 1. The system is composed of the motor, pump, cyclone, vibrating screen, pool, recycling box.
 2. Working principle: The compound of sand and water is transported to cyclone, the sand that centrifugal classification concentrate provided to the vibrating screen by the heavy grit, sand and water are effectively separate after vibrating screen dehydration. Through Recycling Box, fine sand and mud and so on returned again to the pool, and then are exhausted from the exit when the liquid surface of pool is too high. The material weight concentration recovered by the vibrating screen is 70%- 85%. Adjusting fineness module may come true by changing pulp concentration, adjusting the flooding water yield, changing the grit mouth, then fulfilling its three kinds function— washing, dehydration and screening.
(3) Features and Benefits:
 1. Effectively reduce the fine sand losing quantity,and make it in the scope of 5~10%
 2. The vibrating screen utilizes polyurethane screen cloth, which has longer life compared with others and uneasy to be blocked.
 3. Inner the polyurethane, strengthen the whole device service life, it can smoothly finished the work of condensing slime and clearing the liquid etc.
 4. The maximum fine grain materials quantity recovered from the total effluent is 85%, so it has unsurpassed technology and economic advantage compared with other equipments.
 5. The find sand are recovered sufficiently, you can reduce the sedimentation basin workload and low its clean cost.
 6. Reducing nature stock time of the fine material, they can be transferred directly and supplied to the market.
 7. We can design corresponding solve project according to our consumers, different requirements.